Quick and easy…gotta love this Pick 3 Lottery system. Here you map out all of the Double numbers that have hit in the history. Next to the doubles, also map out the numbers with consecutive pairs (01, 12, 23, 34…etc.)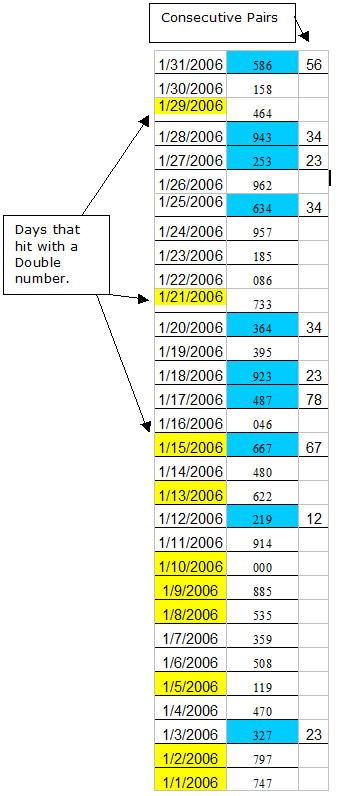 Now not sure if you notice anything obvious between these two yet, but look close. THREE times after a number with a consecutive pair hit, a double number hit with one of the consecutives as the number that doubled. Look again, the GREEN highlight shows the hits where the pairs turned into doubles in the following Pick 3 lottery draw.
On Jan 12th, the Pick 3 number 219 hit. The consecutive pair would be 12. This gives you boxed numbers:
311, 411, 511, 611, 711, 811, 911, 011 and 322, 422, 522, 622, 722, 822, 922, 022 (I took out the triples and double numbers that have both pairs in them, like 122 and 112)
Do you think this Pick 3 Lottery
system has Potential? Rate it!


(29 votes, average: 4.03 out of 5)


Loading...
Please feel free to leave a Comment.
Together we can really sharpen these Pick 3 Systems!